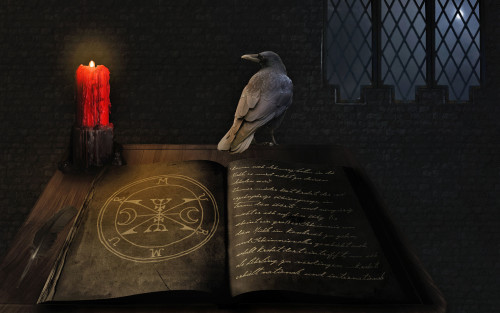 HELP WANTED – PART TIME
Professional occultist/ counsellor/ clerk
OKC metaphysical store in need of well-studied staff to assist customers with esoteric spiritual questions, preparing dressed candles, advising on tumbled stone and crystal selections, and answering questions about various metaphysical matters ranging from modern Christianity to Thelema, Wicca, Satanism, Buddhism, and general practices such as meditation and smudging.
Qualified applicants must have serious interest in the occult and be widely-read on topics such as religion, folk magic, crystal magic, herbology, tarot, witchcraft, etc. It is preferable that the applicant be a licensed minister in the state of Oklahoma, and be able to speak some Spanish.
Duties will include answering customer questions on their level of spirituality (ie, if a self-identified Christian is asking about spiritual protection, don't give her a Wiccan answer), preparing candles, ringing people up, housekeeping chores such as vacuuming, general clerical work such as filing, pricing, inventory, data entry, etc. Further, staff is expected to write at least one blog post per month for the store's website, during downtime between customers.
Candle dressing is one of our most popular services. What this means is adding oils and herbs to the candle so that it creates an environment conducive to the customer's spiritual goal. The staff can use any school of magic they prefer to achieve the results. We are a hoodoo-oriented store rather than a pagan/witchcraft shop, but do not expect all our staff to know hoodoo. Most of the customers are not pagan but instead mystical Christians (and also, muggles seeking magical help), and seem to prefer the hoodoo style of candle dressing over witchcraft. The staff member will listen to their problem, work out an ethical goal with the customer that is on their comfort level, and prepare the candle while advising them what the various components of the spellwork will help achieve. If additional action is necessary, such as preparing a name paper or taking a spiritual bath, the staff member will also advise on that.
First and foremost we are counsellors and ministers, and this is a strong component of the daily work. We cannot accept neophytes or inexperienced magicians for this position – you must be able to hit the floor with enough knowledge to answer basic questions on a wide range of spiritual matters. Full competency only comes with practice and all our staff – including the owner – learns something new every day because each customer brings something new and different to us. Magic is a flexible medium, and every candle or piece of advice is a custom request.
We also have a substantial botanica clientele, who tend to be Hispanic Catholics. A working knowledge of curandismo (Latino folk magic used for spiritual healing) will come in useful when assisting these customers.
Due to the nature of our customer base, applicants MUST be able to "look normal". We have a dress code prohibiting showing tattoos and excessive or "edgy" piercings. We cannot scare off the muggle customers or create a division between us and them – they need to be able to feel comfortable talking with us about their personal spiritual issues. That said, a nostril stud is acceptable, and hints of your tattoos can peek out from shirt sleeves. Anyone may wear makeup as long as it's street friendly (aka daywear), not creepy or punk. Gentle gothiness is absolutely fine. We can be stylish, but we must above all be accessible and help our customers feel comfortable with us. We're already different from them because we are magical practitioners, so a "normal" disguise is useful to help them feel at ease.
Part time clerks (there are no full-time positions at this time) will be working 12-15 hours per week, with one weekend day. Usually the shifts are 11am to 3 or 4pm, depending on the traffic, two to three days a week. Additional hours will be available if the owner goes out of town or if we have an event, and during the holiday shopping season. The store is just now three years old and while we are growing, we need our clerks to understand that we are still dealing with a day-to-day budget, and if revenue falls (such as the store being closed for a few days due to ice in the winter), hours will be cut. We therefore prefer to hire people who are not fully dependent on this income for their living. Pay starts at $8/hour, which although above minimum wage is not a living wage in Oklahoma City. We pay cash bonuses when we have exceptional sales days to help alleviate what we see as a somewhat stingy pay scale for persons with such specialized knowledge and responsibilities. There are no benefits, insurance, etc with this position. The owner is not making a paycheck yet, and until that happens, we are stuck only offering part time employment.
Applicants will be required to go through a background check. Criminal records do not exclude you for consideration, depending on what the offense was, but we may ask you detailed questions about it.
You must have reliable transportation.
Furthermore applicants MUST be able to make change, and alphabetize. We have a rewards program with note cards filed by the customer's first name, and the opening clerk is the one who files the previous day's cards. To this end they simply must be in perfect alphabetical order otherwise we can't find their card. It is very frustrating to have to hunt for a misplaced card.
To apply for this position, please send your application letter, CV, and references to us at admin (at) everdarker (dot com). Pardon the unconventional format (you know what to do) – robots that collect email addresses are such pains. We prefer a CV format over a resume unless you have had extensive experience working at metaphysical stores, in which case, a resume will be fine. If you prefer to mail it, please email us and we'll send your our mailing address. Do not bring it by the store, and do not mail it to the store (we don't have a mailbox there).